The Trump administration said on Thursday that it would temporarily waive a century-old shipping law for Puerto Rico , known as the Jones Act, in response to a request from Gov. Ricardo A. Rosselló of Puerto Rico.  that officials there said was hindering disaster relief efforts after Hurricane Maria.
Governor Rosselló and federal officials on Thursday said that more fuel, food and flights were beginning to reach the island. Increasingly desperate people have spent hours lining up outside grocery stores, banks and gas stations, only to sometimes leave with nothing.
Amid widespread shortages of basic necessities, Mr. Rosselló and federal officials said they were setting up 11 regional centers to distribute aid to devastated towns that were all but cut off from the outside.
Federal officials said these centers had received two million liters of water and almost one million meals, and more was in the pipeline. A main challenge has been getting supplies out of Puerto Rico's ports and to people who need food and water.
Governor Rosselló said that 689 of Puerto Rico's 1,100 gas stations were now open, but lines at many still stretch for a quarter-mile and people spend entire days to fill up a few plastic jugs with fuel for their cars or generators. He said that more fuel was arriving, and that officials were working to get truckers to transport fuel and other supplies.
What is the Jones Act?
The Merchant Marine Act of 1920, known as the Jones Act, requires goods shipped between points in the United States to be carried by vessels built, owned and (mostly) operated by Americans.
Ways to Help
Give cash, not supplies
Most charities prefer monetary donations, especially if you plan to donate internationally. These are more flexible and cause less of a strain on the charity, allowing them to help more, USAID explained.
"Unlike material donations, cash involves no transportation costs, shipping delays, or customs fees. It also enables relief organizations to spend more time providing aid by spending less time managing goods," the organization explained on its website.
Learn more with USAID's "greatest good donation calculator."
Check the charity
Before you donate to a charity, make sure you know where your aid is going. The Center for International Disaster Information recommends checking with a charity monitoring organization like GiveWell, Charity Navigator, Charity Watch, or the Better Business Bureau before donating.
Make sure your donation is secure by going through an organization's official website or sending a check in the mail. Charity Navigator says you should never donate over the phone, email or unknown social media pages, as these are easier for scammers to target.
Where you can donate
Follow these links to donate to campaigns related to Puerto Rico and Hurricane Maria. Many pages also provide information about specific ways your donation will help.
Specific causes
Children's Hunger Fund: This organization provides food and other aid to children by coordinating with churches. This is their Hurricane Maria relief page.
Heart to Heart International: This is the hurricane relief page for the organization, which is providing free health clinics to those affected by recent hurricanes.
Humane Society: The Humane Society said they are deploying a team to Puerto Rico to help animals affected by Hurricane Maria.
International Medical Corps: The organization, which provides medical relief to those affected by disasters, set up this page for those affected by Hurricanes Maria and Irma.
MedShare: This organization, which collects medical supplies to redistribute to areas in need, set up this campaign for Hurricane Maria.
Save the Children: This organization said they are "on the ground in Puerto Rico" helping children affected by the storm.
General campaigns
American Red Cross: This is their general disaster relief fund.
Americares: This is the humanitarian organization's hurricane relief page.
Direct Relief: This is the general donation page for the organization, which is providing relief in Puerto Rico.
Global giving: This is their Puerto Rico & Caribbean Hurricane Relief Fund.
ICNA Relief: This is the Hurricane Maria disaster relief page for the Muslim humanitarian organization.
International Relief Teams: This is their Hurricane Maria relief campaign.
One America Appeal: This fundraising campaign, started by the five living former U.S. presidents, helps victims of Hurricanes Harvey, Irma and Maria.
Project Hope: This is their Hurricane Maria relief campaign.
United for Puerto Rico: Started by the first lady of Puerto Rico in collaboration with the private sector, this campaign helps hurricane victims in Puerto Rico.
World Vision: This is the Hurricane Maria disaster relief page for the Christian humanitarian organization.
.
How to try to reach loved ones in Puerto Rico
Email Puerto Rico's disaster relief team at [email protected]. Because of high volume, officials are asking that people only send one email and no follow-ups. Include as much information about the people you are concerned about and your contact information.
Call the Puerto Rico Federal Affairs Administration's Washington, D.C., office at 202-800-3133 or 202-800-3134. Staffers are taking names and numbers to develop plans on conducting welfare checks.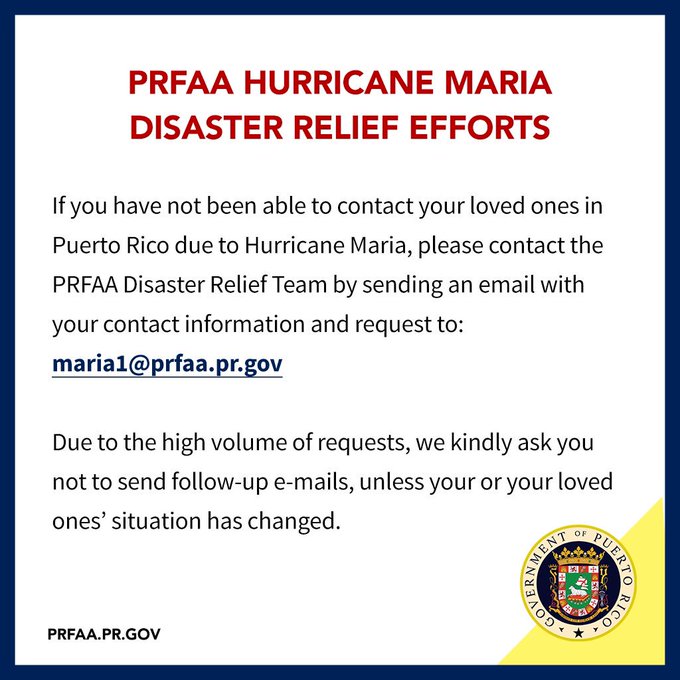 Call local Puerto Rico radio station WIPR at 787-777-0940.

Use the Red Cross' Safe and Well database, where survivors can mark themselves as safe and family members can search through the list of registrants.
More Details: ABC News